Bachelor of Quranic Studies with Multimedia with Honours
PROGRAM DETAILS
Programme Code:
QI10
Medium of instructions:
English and Arabic
Duration of Studies:
- Full Time: 4 years (8 semesters)
Quran is the main source of knowledge in Islam. It covers various aspects of knowledge such as theology, law, history, science, and others. However, it is believed that the main area of Quranic studies is only related to the Quran itself and issues related to the laws and Islamic understanding. Thus, most graduates in this field are not able to interact with the current development of science and technology. This led to stagnation of new ideas which are essential in understanding and practicing Islam based on current technologies. Hence, this programme has been specifically designed to focus on Quranic studies such as Qiraat and Tarannum that are rarely offered at professional level. The application of science and technology are also given emphasis in order to produce a dynamic programme which would benefit the society. For this purpose, selected Multimedia courses are combined with Quranic studies courses such as Qira'at and Tarannum. With the combination of both fields, a paradigm shift in the learning of Quran is expected to take place towards upholding the Quran in terms of its appreciation and practice in academic and professional level.
CAREER PROSPECTS
Usahawan, Pegawai Hal Ehwal Islam, Pegawai Penyelidik, Pegawai Penerangan, Perunding Motivasi, Wartawan Penyiaran, Postproduction Specialist, Pereka Grafik, Pembina Perkakasan Multimedia, Pereka Web, Tenaga Akademik (Guru/Tutor/Pensyarah), Pentadbiran, Bidang Pendidikan Islam, Bidang Penyelidikan, Bidang Media Elektronik, Bidang Penyiaran Elektronik Radio dan Televisyen, Bidang Penerbitan Multimedia dan Animasi, Bidang Penerbitan Bahan dan Media untuk Pengajaran dan Pembelajaran, Bidang Pengiklanan dan Public Service, Pusat Latihan dan Sumber Manusia, Bidang Pendakwahan, Bidang Pengurusan dan Pentadbiran Usahawan dalam Bidang Audio Visual, Pegawai Hal Ehwal Islam, Pegawai Tadbir Diplomat, Pegawai Penyelidik, Pegawai Penerangan, Perunding Motivasi, Pegawai Penerangan, Wartawan Penyiaran.
Contact Us
Student Admissions and Marketing Department
Level 1, Chancellory Building
Universiti Sains Islam Malaysia (USIM)
Bandar Baru Nilai, 71800, Nilai, Negeri Sembilan, MALAYSIA

Phone: +606-798 8000
Email: admission@usim.edu.my
Testimonial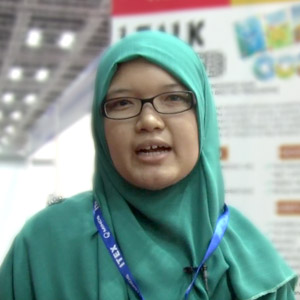 I am proud to be one of the FPQS students which offers an innovative and competitive programmes such as Bachelor of Quranic Studies with Multimedia. The programme truly integrates the study of the Quran and Sunnah with modern fields in accordance with the needs and expectations of the country. This would help me explores issues and challenges facing Muslim society and find solutions derived from the Quran and Sunnah to enhance the quality of life of the ummah.
Education:
Bachelor of Quranic Studies with Multimedia with Honours